Top 10 In-Demand Jobs in Canada
Published on: October 16th, 2023
Last updated: October 18th, 2023
Canada's job market witnessed significant changes, resulting in job openings across various sectors. From the burgeoning education sector to the expansion of transportation and warehousing, this article offers insights into the growing industries in Canada and the top 10 in-demand jobs this year.
Welcoming skilled newcomers to Canada continues to be a goal of the Canadian government every year. With nearly one million job vacancies, there is a major demand for skilled workers to fill the available positions. Overseas candidates with experience in in-demand occupations are expected to have strong prospects in the Canadian labour market during the upcoming years and could be strong applicants for skilled immigration programs.
Looking at targeted Provincial Nominee Program (PNP) draws across Canada sheds light on which jobs are in demand in terms of immigration. Generally, careers in the health care sector, technology field, and scientific areas tend to be in high demand across the country.
In September of 2023, Canada's job market experienced significant shifts, presenting numerous opportunities in various sectors throughout the country. Fields like transportation, food services, healthcare, technology, and educational services, among others, offer promising job prospects for those seeking employment.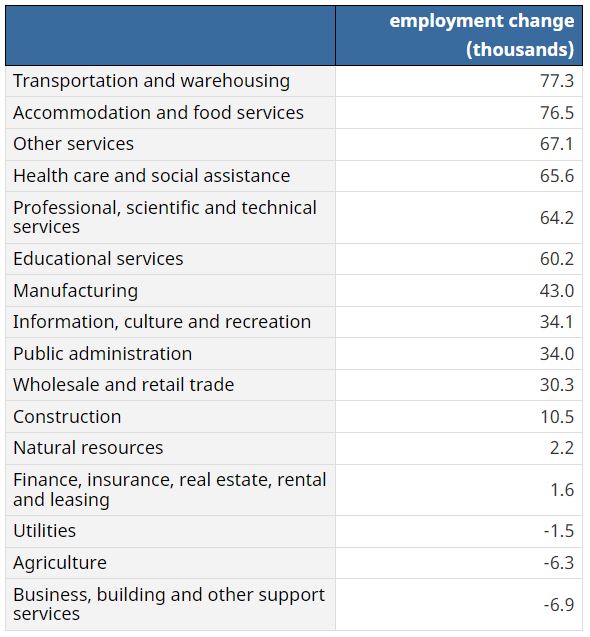 Top 10 In-Demand Jobs in Canada
Based on the information provided by Statistics Canada and data we gathered from various job-seeking platforms such as Canada Job Bank, Indeed and LinkedIn, we are pleased to present a list of the top 10 jobs in high demand for the current and upcoming years.
1. Registered Nurse (RN)
Jobs in the healthcare sector remain in-demand in many provinces across Canada. As a result of the Covid-19 pandemic, nurses are in particularly short supply with many provinces having targeted PNP draws for registered nurses.
Because of the high demand for nurses, there are also several immigration options available to overseas candidates with experience in nursing to encourage them to consider Canada as an option to immigrate to.
Average Annual Salary: $70,975
Highest Paying Provinces: Northwest Territories, Nunavut, and Yukon.
Minimum Education: Bachelor's degree and registration with a provincial or territorial regulatory authority.
2. Web Developers
A web developer is a specialist who is involved in the development of applications or and website development. Typically there can be a large scope to the types of projects that one might have the chance to work on.
With a booming tech industry, there are many options for tech workers to immigrate to Canada. With Canada's Global Talent Stream, web developers have a solid pathway to obtaining a Canada work permit. There are also several Provincial Nominee Program (PNP) options for candidates with work experience in these occupations.
Average Annual Salary: $72,627
Highest Paying Provinces: Ontario, Alberta, and Manitoba.
Minimum Education: Bachelor's degree
3. Electrical Engineer
Electrical engineer careers require the ability to design, analyse, and specify electrical systems. These systems are also then constructed and tested by electrical engineers, making them essential in the entire process. Those working in this type of role are expected to maintain these systems and components to ensure that they operate safely. Typically, this position requires a high level of education.
Average Annual Salary: $91,832
Highest Paying Provinces: Highest Paying Provinces: Alberta, Newfoundland & Labrador, and Saskatchewan.
Minimum Education: Varies depending on role, minimum of Bachelor of Science in engineering.
4. Truck Driver
Truck drivers often top lists as one of the most in-demand jobs in Canada. They are needed in almost every Canadian province and territory to transport commercial goods from coast to coast. According to Statistics Canada, the vacancy rate in truck transportation is around 8%, giving those looking to immigrate to Canada as a truck driver strong job prospects.
Average Annual Salary: $46,828
Highest Paying Provinces: British Columbia, New Brunswick, Prince Edward Island, and Nova Scotia.
Minimum Education: Completion of truck driver training alongside appropriate licensing and endorsements.
5.  Welder
Canada expects to add 23,000 welding positions to the economy by 2028, making this profession in high demand. Welding positions are in particularly high demand throughout British Columbia and Prince Edward Island. However, those with welding experience are likely to have a strong advantage throughout the nation when considering where to immigrate to.
Average Annual Salary: Between $18.00/hour and $41.10/hour
Highest Paying Provinces: Alberta, Saskatchewan, and British Columbia
Minimum Education: Varies but typically onsite training and/or a training certificate
6. Veterinarian (Vet)
Like many places around the world, Canadian people love their pets. Though unfortunately, veterinarians are short in supply in Canada. This makes this career one of the most in-demand jobs in Canada for several years. Many provinces have specific targeted PNP draws aimed at encouraging more vets to the country.
A veterinarian trying to build a career path in Canada is required to have a license from the regulatory body within the provinces/territories, as this is a provincially regulated occupation.
Average Annual Salary: $95,804
Highest Paying Provinces: Saskatchewan, Edmonton and Calgary
Minimum Education: Veterinarian licence
7. Licensed Practical Nurse (LPN)
For the same reasons as Registered Nursing, Licensed Practical tops the list of in-demand jobs in Canada. The Covid-19 pandemic and an aging population is placing more demand on the healthcare system, requiring more Licensed Practical Nurses. Similar as well to Registered Nurses, there are several immigration programs that those in the healthcare field could benefit from.
Average Annual Salary: $55,564
Highest Paying Provinces: Manitoba, Alberta, and Saskatchewan.
Minimum Education: Bachelor's degree and registration with a provincial or territorial regulatory authority.
8. Industrial Electrician
Working in this in-demand job in Canada, electricians enjoy some of the best jobs in the skilled trades. In particular, Industrial electricians are in high demand throughout the country. Newcomers with relevant education and employment experience can land a job in Canada as an industrial electrician, or another similar electrician profession.
Average Annual Salary: $68,000
Highest Paying Provinces: Alberta, Newfoundland & Labrador, and Saskatchewan.
Minimum Education: On-site training and/or a trade certification.
9. Pharmacist
Pharmacists are responsible for distributing medicine and providing health consultations to advise about medicine. A pharmacist can build a career path by working in a hospital, a drugstore, or by starting their own pharmacy.
Pharmacists are provincially regulated, meaning that each province will have their own regulations. To become a pharmacist,  you must have a degree in pharmacy, pass the exam conducted by the Pharmacy Examining Board of Canada (PEBC) and register in your province or territory to become a certified pharmacist in Canada. Similar to other professions in the medical field, pharmacists have been in high demand in recent years.
Average Annual Salary: $89,314
Highest Paying Provinces: British Columbia, Quebec, and New Brunswick.
Minimum Education: Degree in pharmacy
10. Accountant
Accountants are vital to the operations of a successful company. As businesses grow in a post-pandemic economy managing finances becomes an increasingly important factor in maintaining success.
Accountants can expect to find job opportunities throughout the country with potential growth within the next few years.
Average Annual Salary: $56,257
Highest Paying Provinces: Alberta, British Columbia, and Quebec.
Minimum Education: Business-related Diploma or Bachelor's degree.
Working in Canada: A Pathway for Immigration.
Canada's Express Entry system continues to be the fastest and most efficient route to permanent residence for workers with the right skills and experience from many different industries. Many Provincial Nominee Programs (PNPs) are geared toward skilled workers with specific work experience. If your work experience is in demand, you may be eligible for a provincial nomination for permanent residence.
Provinces select candidates with in-demand experience and skills. If you have work experience in one of the above in-demand jobs in Canada, you may be eligible for a Provincial Nominee Program (PNP).
With an increase in job vacancy rates, an aging Canadian workforce and the current immigration target of welcoming more than one million newcomers in the next three years now is the best time for foreign nationals looking for employment to take that first step toward Canadian immigration!
Interested in working in any of these professions and living in Canada? Learn about your immigration options by completing our free online assessment!
Start My Free Assessment